The Xbox One has been with us since 2013 and most of us have sunk many hours playing games on this console, along with even creating memorable gaming moments with friends. The platform was revised in 2016 with the Xbox One S, which had a smaller form factor and HDR support, to name a couple of features. With 4K now being the prime for TV resolutions, we are starting to see the games industry adapt and harness this new standard to its potential, and the Xbox One X firmly grips 4K gaming by the horns.
The Xbox One X is the third redesign of the Xbox One platform, featuring support for 4K gaming and 4K Blu-Ray media playback, along with an even smaller form factor and more power than the previous two hardware revisions.
The first thing I noticed when unboxing the Xbox One X was the heaviness of the console, and I believe this is due to the lack of external power brick that we all know and loathed with the first Xbox One and Xbox 360. The power supply is now internal, with only a simple Figure-8 power lead needed to power the console. I know this is such a minimal observation, but this already gave me confidence with what I was going to expect in terms of build quality with the Xbox One X.
The Xbox One X has a HDMI out port, HDMI in port, two USB 3.0 ports, IR out, S/PDIF out and ethernet port at the rear, with a USB 3.0 port at the front-right. I'm pleased that a S/PDIF port has been added to the Xbox One X as it allows audio optical out for surround sound systems without having to split audio from HDMI elsewhere. The inclusion of two USB 3.0 ports at the rear is also handy for those who have an external HDD and also want to use a Kinect via a USB adapter. It is also worth noting that the Xbox One X has a matte black finish, which is a huge improvement over the easy to smudge/scratch glossy surface on the first Xbox One.
Looking closely at the Xbox One X and its small form factor, I was a little concerned as to how cooling would work as I noticed the ventilation ports were only on the sides and rear of the console. Upon using the console and giving it a stress test with running 4K content, the heat dissipating from the Xbox One X was quite minimal and this is due to the console using a vapor chamber setup for cooling. This is an effective and efficient setup that is regularly seen in high-end PC graphics cards and laptops, and it is excellent to see Microsoft adapting this cooling solution into what will be a mainstream product.
The Xbox One X comes with two codes – a 14-day Xbox Live Gold subscription and a 1-month Xbox Game Pass subscription. The trial Xbox Live Gold code is fairly standard but I am especially glad the Xbox Game Pass code is included as it immediately gives you the full opportunity to try out all the online features that Xbox have to offer, instead of feeling like you need to buy extra items to use your brand-new console.
Looking further into what else is in the box, the Xbox One X includes a wireless controller, power lead and a high-speed HDMI cable. The lengths of both the power lead and HDMI cables are quite generous, I was able to position the Xbox One X on the far-right side of the TV cabinet, with the nearest power point and TV HDMI port on the left side. The included wireless controller is also the upgraded version with the textured/grippy feeling back and the internal 3.5mm audio port on the bottom.
Setting up the Xbox One X is incredibly easy. To make things simple for Xbox One owners who are looking to upgrade, Microsoft added a feature where you can backup your settings to a new Xbox. I tried this out when setting up the Xbox One X and it worked seamlessly. After the backup was restored, I was able to start using the new console immediately and with all my games saved on an external HDD, I was back to playing games in no time. I feel this is one of the more critical features of the Xbox One X that has been designed well, as the last thing a gamer would want to do when buying a new console is to be wasting their time in initial setup.
The Xbox One X is a serious beast of a console to be able to run games at 4K. Microsoft mention that the console has 40% more power than any other console currently out, 6 teraflops of graphics processing power, an 8-core 2.3GHz processor and 12GB of GDDR5 memory. At the time of writing the review, the only title that was optimised for 4K was Gears of War 4 and the game was noticeably sharp. There were no drops in frame rate, the gameplay was smooth and the overall experience felt a lot more immersive. Games that are optimised for the Xbox One X will have logos printed on the game case jacket, such as 4K Ultra HD, HDR and Xbox One X Enhanced.
Although the Xbox One X is designed to run games at 4K, it still has added bonuses to those who do not have a 4K TV. Games that are designed for and render at 4K are automatically supersampled to 1080p with noticeable effects such as better textures, environments and sharper anti-aliasing.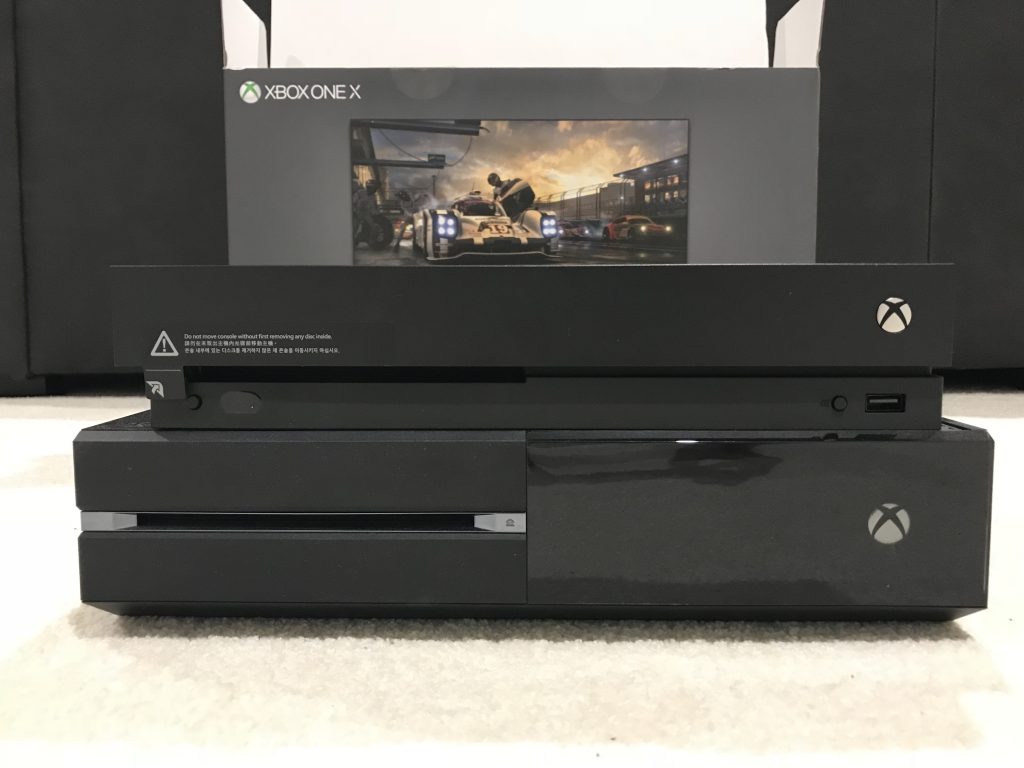 The Xbox One X also features a 4K Ultra HD Blu-Ray player. This is a first for any console and it is a very practical addition, saving the user from buying a standalone player for $200+. In the media kit that we were provided, it included a 4K Blu-Ray copy of BBC Planet Earth II and it was by far the best experience I have had with my 4K TV. Colours were rich, the overall image was sharp and the Xbox One X had no issue playing the Blu-Ray. There was no drop in frame rates and no noticeable noise coming from the console.
The main thing to ask now is whether the Xbox One X is worth buying or not? For someone who has a 4K TV, it is a no brainer but for those who only have a 1080p TV, there is more to weigh up. Although the console can still provide graphical and performance improvements, it is $200 more than a 1TB Xbox One S and $250 more than a 500GB version. It comes down to whether you feel those improvements such as faster loading times and higher frame rates are worth spending the extra money and if you see yourself owning a 4K TV in the future, think of it as future-proofing.
The Xbox One X is a solid piece of gear that has exceeded our expectations. Don't let its small form factor fool you, Microsoft say that it is the world's most powerful console and they have delivered.
Xbox One X releases in Australia on 7 November for $649.95 RRP.
Progress Bar was provided with an Xbox One X review unit, courtesy of Xbox ANZ.